Lux

Street Talker with Style

Attributes:
Agility d6, Smarts d6, Spirit d8, Strength d4, Vigor d6
Skills:
Fighting d4, Intimidation d8, Notice d4, Persuasion d10, Shooting d6, Streetwise d6, Taunt d6
Charisma:
+6; Pace: 6; Parry: 4; Toughness: 5 + Armor
Hindrances:
Arrogant (Maj); Delusions (Min); All Thumbs (Min); Anemic [The Sniffles] (Min)
Edges:
Attractive, Strong Willed
Other Traits:
Low-Light Vision
Gear:
Body Armor(p16),  Medi-Gel (6pack; PDD (p16), SMG(p21),  Stun Gun(p22),  Vehicle (see below)
¥:
630
Reputation:
0/5 (at present; it'll go higher, believe you me)
*****
LIFESTYLE

Middle (¥5,000/monthly)

Lux lives in a studio above one of the few quality Street Clinics in the Sprawl. The Ork owner of A Whole New You, Dr. Simeon Case (not a real doctor) proudly proclaims his 2-star accommodations and is able to afford a security detail to keep it so fresh, so clean.
Lux persuaded Simeon to give up his personal residence above the shop through fast talking, smooth walking, and a great many favors. The elf uses his considerable charm and sweet silver tongue to dance the word of Simeon's Shop into the ears of any who'll listen. He brings in customers and Simeon cuts the rent into an affordable ¥5,000/monthly.
The home is minimally furnished in a fashion trend he calls Neo-Spartan (not a real trend). In fact, the elf maintains this minimalism simply because he cannot afford the high priced and sexy furnishings he desires…and he's not about to slum it any more than he already does.
Rising fast into the ranks of a high rise luxury suite on the Strip is in the Top Priority list and remains one of the elf's main motivations for taking jobs in the shadows.
*****
EDGES/HINDRANCES STORY NOTES
• The Attractive Edge is derived from an enhanced Bioware modification performed at great cost back in the Tir Tairngire (pheromones).
• Delusions Hindrance come from leftover flashbacks caused by overuse of BTL sims. At times it can be difficult for Lux to tell reality from hyper-reality.
• All Thumbs Hindrance is the key reason Lux doesn't tend to rely too much on technology and why he has yet to risk Cyberware enhancement.
***** 
STORY
Lux was not always so.
This fast-talking wannabe nouveau riche grew up in the celestial elven domain of Tir Tairngire (pron. Shir sha-irn-gir-ra). The realm's majesty and grace shapes all, touches all, but even Heaven it seems has its ghetto. From the tightly swollen sphincter of the elven nation Lux and his family crawled their way up and out into upper middle poverty and the realization that they'd never go one step further.
This simply would not do. Lux gazed upon the stars and their incessant twinkle and knew he must be destined for something, anything that wasn't this menial living. He took to theft, petty crime, drugs, and eventually discovered the ethereal realm of Simsense.
First a purveyor of illegal goods, then a user, finally an addict, Lux became fascinated with the synthetic experiences of other races, or so he told himself by way of excusing his habit. Inevitably, the delusions came and with them an overblown sense of self which led the young elf to shame and desperation. He stole from his own family and pissed off high level executives. When time came to pay the piper he abused and manipulated every contact he could muster in order to minimalize his sentence to Forget and Begone.
An elven mage hired by a spurned exec escorted Lux to the first plane out and wiped the memory of his real name and any desire to return just for kicks.
It just so happened the plane landed in the Neon City of Las Vegas.
*****
Life in the Pueblo Corporate Council failed to live up to the Great Expectations. Just so happened that squalor and filth exist in all domains and Lux could not seem to drag himself out of the shithole that is life for the poor. Furthrmore, he felt and feels an overwhelming nostalgia for his homeland (the grass is greener) and buys up BTLs on the reg all with the common theme of home.
Fortunately for Lux, despite the natural prejudices against the Meta elves felt by the lesser races, life in the elven nation prepared him as a near-godlike (his words, not yours) charismatic being in comparison.  In short order, Lux manage to charm the right people in the Sprawl, discovered his home, gained some contacts, and massaged the shadows in search of Fixers.
Lux is an elf who knows how to get others on your side with a streak of arrogance that often overshadows his charm. He has left behind him (and likely ahead) a trail of scorned and hostile contacts which has left him paranoid in the extreme.
After a particularly good score working for a mob-connected Mr. Johnson, Lux flaunted his ego and skill in front of the wrong crowd. A group of common (read: Human) street thugs referred to him as a "glitched-out dandelion eating chiphead." Grace (stun gun) put one of the filth in the Las Vegas streets pissing himself and screaming in pain. Just before the others could take their turns playing Smack-an-Elf, an opportunistic trog (vulgar term for troll) who knew the elf had money stepped up and partook in pre-emptive beat down. From that point on Lux understood he had achieved a need for overwhelming security and makes damn sure his Heavy Trog gets paid.
GOALS

Fame and Fortune.
Lux maintains an epic level of superficiality that keeps him in constant need for wealth. Coupled with an exceptional arrogance, he works the Fixers to find the primo jobs and sets out to hire the best of the best to complete them. He prefers to work alongside those he can "enhance" with his elvish wit and wisdom. Lux works constantly to keep this entourage (how he thinks of friends and associates) on a level appropriate to the position he desires.
Below the Surface.
Beneath the glitter and glitz, the beauty and charm, the tremendous humility, Lux feels a need. That need connects back to Tir Tairngire, but has evolved beyond a desire to "go home again." He wants the fame, the wealth, and all the trappings of the important heights of power, but knows in his soul that there is more. He strives constantly to find the secret to such life in the BTLs, knowing that there must be substance beneath the surface. He'll find it if he has to try them all.
A note on images:
- Lux moves through styles like other people change clothes. Hair, makeup, tattoos (temporary most of the time), piercings, clothes, all of it designed to speak flash and grace, carefully cultivated to make a statement.
Below are a few.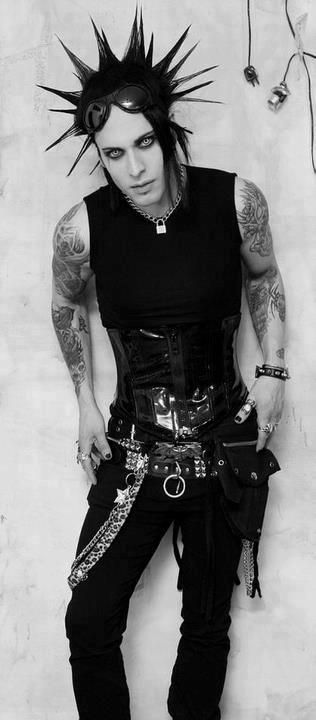 GOTHY STYLE

STREET STYLE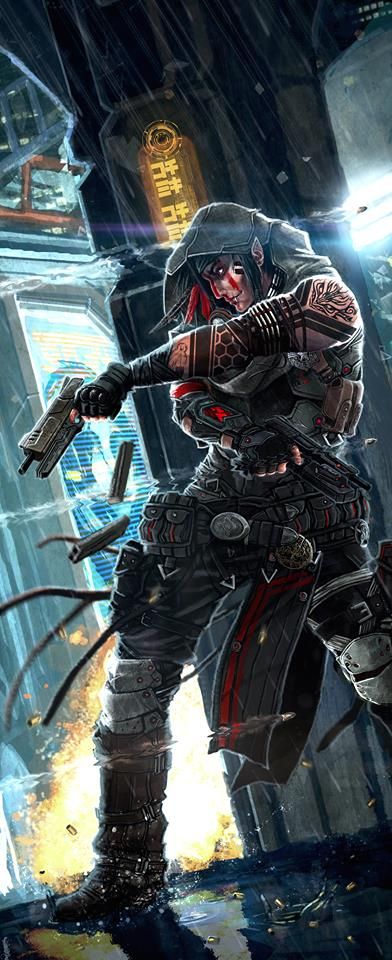 MURDER STYLE