Player Note:
Adding on to this story to connect my character to your offered input. Please let me know if something needs to change.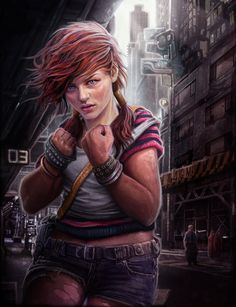 Penny

...and Tomorrow
Lux woke with a start and smashed his head into an unforgiving surface in the dark. Instinctively, he reached up, but hands smacked into the walls and ceiling.
His inner lizard screamed ESCAPE. He flailed around despite the pain.
"Let me out! Let me out! LET ME THE FUCK OUT!" He gave up, closed his eyes. Tried to think.
"Don't hurt yourself."
"Shut up you stupid dead prick, you jumped off a high-rise just to give the simsense crowd a taste of free fall. Hurt myself," Lux snorted. Sneezed. It set off a ringing sting against his skull. Heard laughter.
"Dammit. Shut up. You're not even here."
The skinny elf patted himself down in the tight casket chamber and tried to remember what chain of fool events got him to this place. His clothes were mostly fine, disheveled and torn in a few places. He was cold. The room was cold.
The chamber? He remembered something. Experimentally, rocked back and forth, side to side. His surface slid on rollers.
"That freaky little glitched-out halfer locked me in her vault."
He couldn't help but smile in the dark despite the terrible danger he was in. He reached up to test the door and found what he expected. She'd jury-rigged the emergency handle not to open from the inside.
"It's cold in here." A few seconds pause. " At least I'm not alone."
He closed his eyes and fell back trying to piece together the events of the night comforted by the warm embrace of his invisible friends.
*****
Lux strode into the
Molly Millions
all spit and swagger. He wore a gilded suit he'd taken in payment for making a connection between a tailor and street dealer the night before. It was the latest style, technically a hand-me-down from the
Migi/Hidari
rockers on the Strip, but no one here would know that.
The
Millions
was the post-modern new-world futuristic answer to the old Wild West opium dens. They even had  an old Chinaman at the front door with reflective black goggles and an old timey hat that made him look like a reject from a Steampunk cosplay.
Lux stepped over the washed out body of a trio of chipheads twitching to the beat of whatever next level shit they'd paid for that evening. The elf felt two things simultaneously, what was it called, a cognitive dissonance? He felt pity and disgust when he looked down at the poor little fuckers.
And he felt an overwhelming jealous need to jack in and fall down beside them.
"Lux! You wasted piece of elf-flesh. You could be makin' millions sellin' that natural
Hez'Orka
to the touristos, but what do you do instead? You come into my humble abode!"
Lux sneered openly at the filthy ork language. "I'm surprised to hear such syllabic gutter-trash from your lips, Reg. Orkspeak from a dwarf?"
Blackrock Reg reclined back in a seal-soft chair with two beautiful women on each arm. By day a mid-level manager for the Pueblo Corporate Nation's Simsense Entertainment Division. By night, ol' Reg made a sweet side business selling pirated copies of the latest beetle brands.
"Orks got a few things we can use. Your Hez, Hez'Orka man, you know you got it. That raw, open courage and sexual prowess every chiphead from here to the east coast wants jacked hard in their brains. Skinny man, you could be a joytoy star if you put your mind to it."
"Right Reg, right. And you'll be taking over Horizon MegaCorp from the Council any day now. You got what I need? I got your payment."  The elf tossed a stack of simsense chips on the table with a cred-stick and eyeballed the floor around his connection.
Reg laughed and gestured. "He'll come back with it soon, my brother. Sit. Drink. Be merry. You could probably take advantage of one of those sweaty bods in the corner. Damn near flatlined they've been in that sex-sim so long."
Lux eyed the room with the familiar feeling of self-loathing and pity he always felt in such a place. He'd just about completed the circuit when something caught his eye. A young, dwarf girl propped up in a corner all alone. She wasn't pretty and she looked like she'd just come from work. A badge from the coroner's office clung to her white coat. But it wasn't her that had grabbed his attention.
Sitting beside her, scattered on a silver tray, were dozens of beetles in a very distinctive style. Each had scribbles and markings identifying their nature, each in a handful of different writings. All of them flavored with the elf tongue, Sperethiel.
"Hey Reg, what's that washed out halfer…er…dwarf girl doing with a bunch of elven-made BTLs?"
Blackrock glared for a second to let the elf know that kind of talk was dangerous, then shrugged. "She come in saying something about having collected them from a bunch of dead elf girls these past few weeks. They was locked and she wanted me to free 'em. Simple job, but I think she'll flatline if she ain't careful."
"Why?"
"Girlie never done that before. She never jacked in before tonight."
Lux nodded, took his chips, and made as if to go. As he passed young Penny, he leaned down and tapped her wrist three times. Then another three. Then he pinched her hard.
"Ow! What are you…oh…"
He knew right from the start he had her. He was smooth, sexy, suave, and looming over her with his best come-fuck-me grin.
"Reg says you want a real experience. Let's go and I'll show you how to hit the good stuff nice and hard."
*****
"And she brought me here? Lowfyr's balls, but I don't even remember walking in the door." Lux twisted left and right trying to find a way to get leverage on the door.
"Yeah, yeah, I know she must have dosed me. Some shit you put in a dead body, most like. Kenned my game and decided to deal with an unwanted problem. Clever little halfer. Maybe you should start offering a way out of here before you end up talking to a dead man."
Lux pondered that a moment. An imaginary friend talking to a ghost. Possible? He shrugged. "Fucking probably."
A heavy bang scared him into jumping up and slamming his face into coffin ceiling once again. He let out a long string of curses in Sperethiel mixed with what little of the ork language he knew.
The door flew open and hot flurouescent light blinded him for an instant. He felt a heavy hand yank him out and throw him to the tile floor.
After a long moment sure of certain death he blinked away the light-blind and smiled wide.
"Hoi Grimm."
"Hoi Lux."
"You took a while getting here."
The troll grunted and held out a hand. "She hid your bike in the alley. Hadda track the fucken glitter."
"You grok what happened here? Where she went?" Lux stood and shivered. It was colder out of the coffin than inside.
"Think she was spooked. Don't even think this is her work. No signs of dwarf girl in any of the offices. Seems you was shafted. She probably knew your game first word."
"Well," Lux flexed, took two offered guns from the troll's outstretched hand, smiled wide. "She can't be that hard to find."
Grimm